<Bielefeld, July, 13th 2022> An integrated approach: In summer 2022, Dr. Oetker welcomes its target groups with the new brand and corporate websites and an engaging employer branding campaign.
Dr. Oetker has completely relaunched the digital presence of the brand, company, and employer brand. Building on each other in terms of strategy, design, and tonality, the brand websites of all national companies and the global corporate website form the new face of Dr. Oetker's external communication. In parallel, a digital employer branding campaign was launched under the claim "Join the Taste". All three projects take inspiration from the Dr. Oetker Purpose "Creating a Taste of Home". The new platforms offer an individual home for every target group by being open, authentic, and approachable.
Tasty moments to feel good about: Dr. Oetker started relaunching its international brand website in 38 countries
Dr. Oetker is breaking new ground digitally and, for the first time, separating brand and corporate websites to address more directly individual target groups and better differentiate the brand and company for users. The new brand website positions Dr. Oetker as an approachable partner for family and friends with a mobile-first design and a modern, natural color scheme. Warm backgrounds, large image elements, and authentic cooking accessories convey the Taste of Home for which Dr. Oetker stands. Recipes remain an important content marketing tool and inspire moments of enjoyment around pizza, cake, and dessert. In addition, users will find transparent information about products, Dr. Oetker's sustainability approach, as well as the brand and subbrands in the respective national language.
"Our new brand website is an important touchpoint within our digital strategy; in addition to offering a pleasant user experience, it is designed to deliver an authentic brand experience as well as a feeling of being at home," explains Claudia Willvonseder, member of the Dr. Oetker Executive Board. 
The rollout started with www.oetker.co.uk at the end of March; the other national companies will then follow by the end of the first quarter of 2023. The new brand websites were implemented by the Dr. Oetker Consumer Engagement team in Marketing International in collaboration with AKQA, Berlin (design, development) and Foodboom, Hamburg (international content).
The global corporate website – international platform, emotional imagery 
For the first time, the corporate website www.oetker.com has been developed into a central, international content hub. The site is available in German and English for the launch, and will be available on www.company.cameo.it in Italian at the end of summer. It invites users to explore Dr. Oetker as a global, purpose-driven food company and employer. A completely new image world and multimedia storytelling formats highlight Dr. Oetker's employees; a clear structure and intuitive navigation also guarantee a targeted UX. Authentic and approachable, the site offers information about Dr. Oetker as an international company, its new business models and the people behind the business. Users can discover the international history; learn more about sustainability and corporate social responsibility; and being a Dr. Oetker supplier.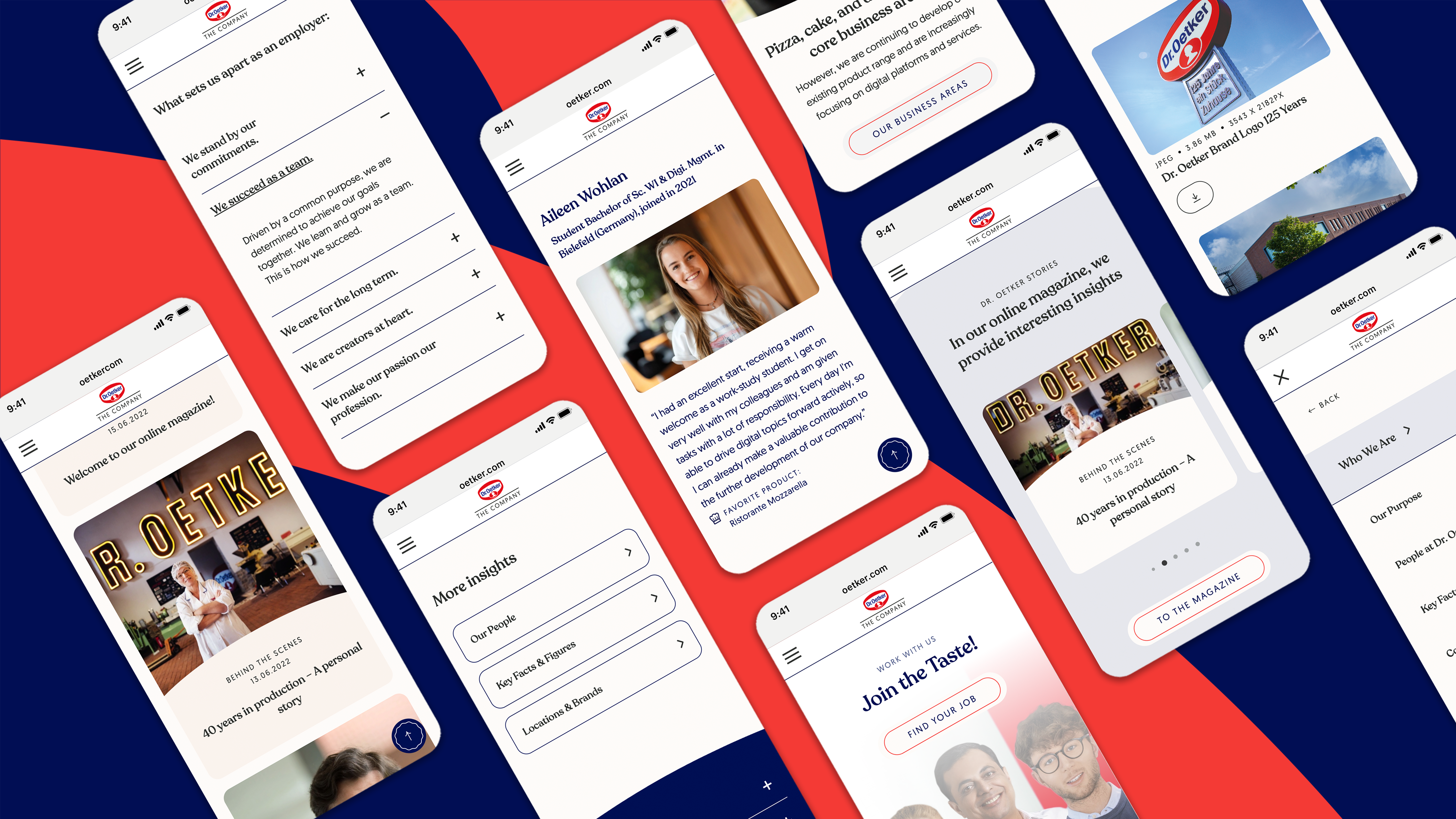 "At Dr. Oetker, our employees have embraced the pioneering spirit for over 130 years. Their hearts beat for pizzas, cakes, and desserts. That's why they are constantly breaking new ground. The new corporate website reflects that," explains Julia Tiemann, Executive Manager Corporate Communication, while describing the global corporate website oetker.com as the central hub for external communication. The centerpiece is the new online magazine Dr. Oetker Stories, which focuses even more on the people behind the projects at Dr. Oetker and makes the topics that drive them more tangible. An international press section with extensive media and recipe downloads provides journalists with detailed insights and images; national, localized press sections provide additional specific information on the national companies.
The new international career section is the central hub for the employer branding campaign; supplemented by national and localized sections for recruiting at the national companies, including a new, clearly structured job portal. 
A Dr. Oetker team from People & Culture and Group Communication was responsible for the corporate website. On the agency side, the project was managed by RCKT, Berlin, Germany. Visual elements were added by Hoch5, Bünde, Germany.
A new direction for the employer brand: Join the Taste
At the same time, Dr. Oetker has redesigned its employer branding and launched a digital employer brand campaign. Using the claim "Join the Taste" Dr. Oetker's employees act as ambassadors and talk about their careers, their passion for their work, and what motivates them. "At Dr. Oetker, the focus is on people. That is why our new employer branding reflects the expectations and needs of our talents. The claim 'Join the Taste' is accompanied by stories that provide an authentic look behind the scenes of our company. The campaign protagonists explain what influence they have on their projects at Dr. Oetker and what moves them every day," says Dr. Rolf Illum-Engsig, Senior Executive Manager, People, and Culture International at Dr. Oetker.
The communication of the employer brand is also about personal commitment, the high-quality standards of one's own work, and the will to continue to develop oneself further – just as the Dr. Oetker company has been doing for more than 130 years. Thus, Dr. Oetker appeals to candidates who share these values and convictions: People who stay curious and dare to break new ground. Individuals who tackle the pressing issues of our time, who inspire and think ahead, team players who want to fulfill the Dr. Oetker Purpose of "Creating a Taste of Home" for millions of people around the world. This is also reflected in the employer value proposition, based on the five pillars of accountability, togetherness, responsibility, innovation, and career opportunities.
The campaign is being progressively rolled out in more than 30 countries and used throughout the talent acquisition process: on social media, in job ads, or at career events. It was developed together with Hoch5, Bünde, and RCKT, Berlin.
For questions, please contact: